Hangzhou
One of China's most enduringly popular holiday spots, Hángzhōu's (杭州) dreamy West Lake panoramas and fabulously green hills can easily tempt you into long sojourns. Eulogised by poets and applauded by emperors, the lake has intoxicated the Chinese imagination for aeons. Kept spotlessly clean by armies of street sweepers and litter collectors, its scenic vistas draw you into a classical 612 D3 Chinese watercolour of willow-lined banks, mist-covered hills and the occasional shíkùmén (stone-gate house) and old lǐlòng (residential lane). Wonderful as it is, Hángzhōu's charms are by no means limited to West Lake scenery – delve further into the city to climb ancient pagodas and discover blissfully quiet temples. Away from the tourist drawcards exists a charismatic and buzzing city in its own right, with wide pedestrian walkways to wander, an unpretentious and exciting food scene, upbeat nightlife and increasingly cosmopolitan population.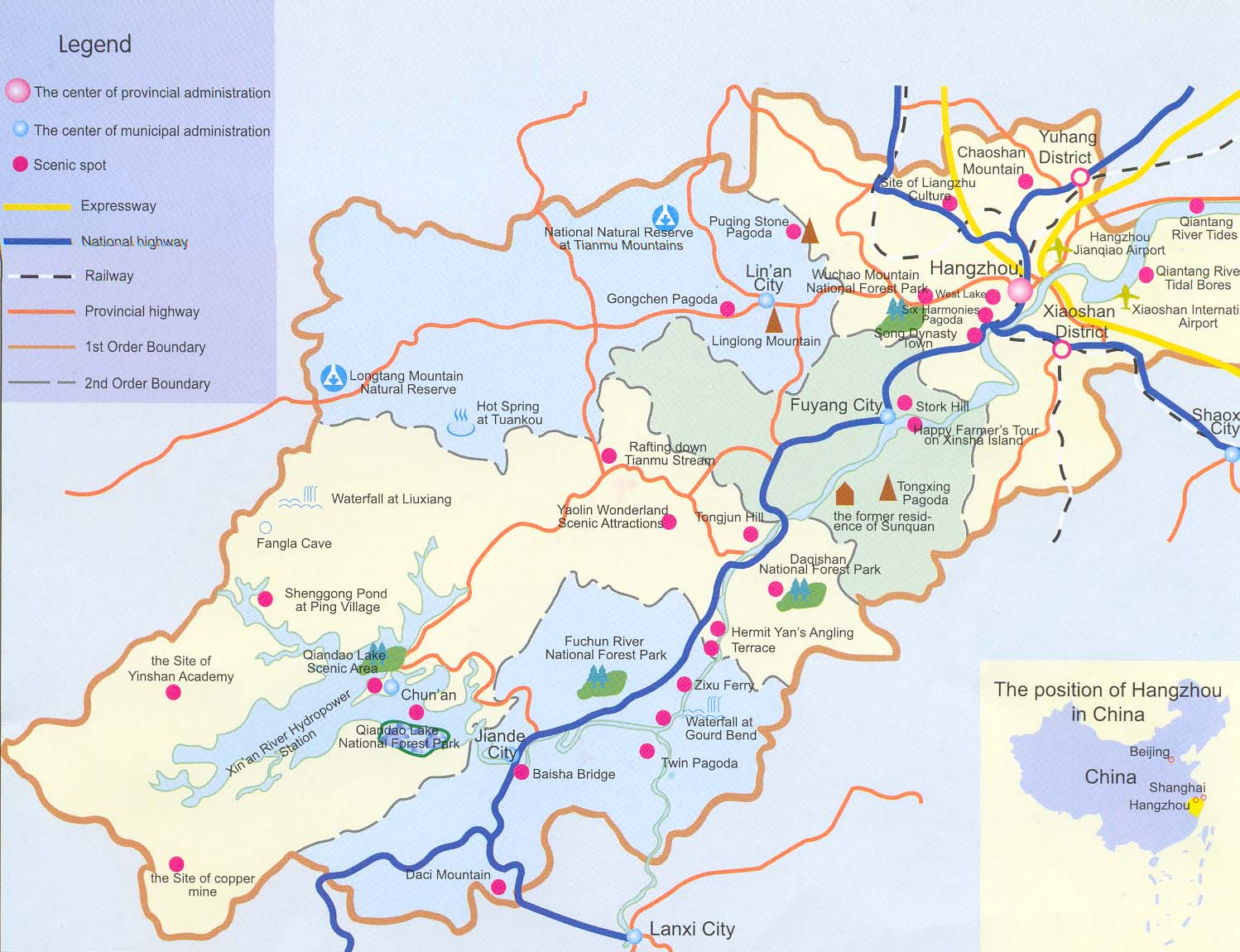 History
Zhejiang's inhabitants can actually be traced back to ancient times. Neolithic (New Stone Age) relics such as pottery and artisan tools discovered in and around the province date back to as early as 7,000 years ago. One such notable excavation was in Liangzhu, a small town in the north of the province where archaeologists dug out rice seeds, pottery and other ancient articles dating back 4,000 to 5,000 years.

During the Spring and Autumn Period (770 – 476 BCE), Zhejiang was a favorite place for emperors to build their kingdoms, and at that time it was predominantly dominated by the Wu and Yue Kingdoms, two rival states which over time saw the rise and fall of many dynasties.

During the Eastern Jin (317 – 420 CE) and Southern Dynasties (420 – 589 CE), Zhejiang was blessed with an emergence of vibrant culture as skilled artisans and intellectuals fled the war-torn regions north of the province, bringing with them a great diversity of religion, calligraphy, poetry, porcelain and philosophy.

By the time the Sui Dynasty (581 – 618 CE) rolled around, the area was politically united, allowing the Song to rebuild and expand the Grand Canal, which still links Hangzhou to Beijing along the North China Plain. The canal was originally built to transport grains from Zhejiang's famous southern granaries to the more depleted regions in the north, and today it still serves as an important transportation and trade link.

The Southern Song Dynasty (1127 – 1279) brought the imperial capital to Hangzhou and propelled the province to fame when they made Zhejiang ground zero for the production of celadon, China's world-renowned light green and blue ceramics. This breathtaking porcelain was exported all over the world, from Asia and the Middle East to Europe and Africa, and the vast majority of it came from Zhejiang's famous kilns, one of which still stands in Hangzhou. Besides porcelain, Zhejiang also became renowned for its silk and paper production.

Tea was one of many important crops in the Tang (618 – 906 CE) and Song Dynasties (960 – 1279), with tea farms covering more than 200 countries. Dragon Well tea (Lóngjǐng Chá; 龙井茶), a famous green variety from Zhejiang, was believed to have been granted Imperial status during the Yuan Dynasty (1279 – 1368). Increasingly popular during the Ming (1368 – 1644) and Qing Dynasties (1644 – 1912) and boasting a 1,500-year history, Longjing tea can still be found on the hills of Hangzhou.

In spite of the Japanese occupation in World War II and a stagnant economy during the Cultural Revolution in the 1950s and '60s, Zhejiang today flourishes as one of the richest and most succesful provinces in China.
Culture & Language
Linguistically speaking, Zhejiang is extremely diverse. Most inhabitants speak Wu, one of the many varieties of Chinese, though Wu itself has a large number of dialects that vary greatly from village to village. Non-Wu dialects are also spoken mostly along the borders: Mandarin and Huizhou to the north and Min dialects towards the south.

With so many dialects in one single province, it can be rather tongue-tying when trying to communicate. Fortunately, most people throughout Zhejiang can speak Mandarin, though with a fairly strong accent.

On a musical note, Zhejiang is the original home of Yueju (越剧). Though it wasn't officially created until 1906, it along with Beijing Opera is the most popular form of opera in the entire country, so definitely try to catch a show while you're here.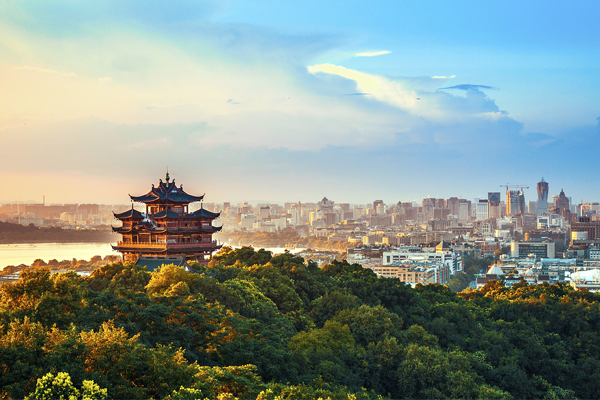 West Lake (西湖, Xīhú )
The very definition of classical beauty in China, West Lake is utterly mesmerising: pagoda-topped hills rise over willow-lined waters as boats drift slowly through a vignette of leisurely charm. Walkways, perfectly positioned benches, parks and gardens around the banks of the lake offer a thousand and one vantage points for visitors to admire the faultless scenery.
Originally a lagoon adjoining the Qiántáng River, the lake didn't come into existence until the 8th century, when the governor of Hángzhōu had the marshy 615 expanse dredged. As time passed, the lake's splendour was gradually cultivated: gardens were planted, pagodas built, and causeways and islands were constructed from dredged silt.
Celebrated poet Su Dongpo himself had a hand in the lake's development, constructing the Sū Causeway (苏堤; Sūdī) during his tenure as local governor in the 11th century. It wasn't an original idea – the poet-governor Bai Juyi had already constructed the Bái Causeway (白堤; Báidī) some 200 years earlier. Lined by willow, plum and peach trees, today the traffic-free causeways with their half-moon bridges make for restful outings.
Lashed to the northern shores by the Bái Causeway is Gūshān Island (孤山 岛; Gūshān Dǎo), the largest island in the lake and the location of the Zhèjiāng Provincial Museum (浙江省博物馆; Zhèjiāng Shěng Bówùguǎn) and Zhōngshān Park (中山公园; Zhōngshān Gōngyuán). The island's buildings and gardens were once the site of Emperor Qianlong's 18th-century holiday palace and gardens. Also on the island is the intriguing Seal Engravers Society (西泠印社; Xīlíng Yìnshè), though it was closed for renovations at the time of research, dedicated to the ancient art of carving the name seals (chops) that serve as personal signatures.
The northwest of the lake is fringed with the lovely Qūyuàn Garden (曲院 风荷; Qūyuàn Fēnghé ), a collection of gardens spread out over numerous islets and renowned for their fragrant spring lotus blossoms. Near Xīlíng Bridge (Xīlíng Qiáo) is Su Xiaoxiao's Tomb (苏小小墓; Sū Xiǎoxiǎo Mù ), a 5th-century courtesan who died of grief while waiting for her lover to return. It's been said that her ghost haunts the area and the tinkle of the bells on her gown are audible at night.
The smaller island in the lake is Xiǎoyíng Island (小瀛洲; Xiǎoyíng Zhōu ), where you can look over at Three Pools Mirroring the Moon (三潭印月; Sāntán Yìnyuè ), three small towers in the water on the south side of the island; each has five holes that release shafts of candlelight on the night of the mid-autumn festival.
From Lesser Yíngzhōu Island, you can gaze over to Red Carp Pond (花港观鱼; Huāgǎng Guānyú), home to a few thousand red carp. Impromptu opera singing, ballroom dancing and other cultural activities often take place around the lake, and if the weather's fine, don't forget to earmark the 616 VILLAGE east shore for sunset over West Lake photos.
It's hardly needed, but musical dancing fountains burst into action at regular intervals throughout the night and day, close to Lakeview Park. Crowds can be a real issue here, especially on public days off when it can seem as if every holidaymaker in China is strolling around the lake. Escape the jam of people by getting out and about early in the morning – also the best time to spot the odd serene lakeside taichi session.
The best way to get around the lake is by bike or on foot.