How to buy China train tickets
Trains in China can take you to many popular destinations, and it would be an incredible experience to take a high speed train during your China travel time. However, it could be a problem for you to buy a ticket in China.
There are three methods to book China ticket:online booking, booking at train stations, authorized train ticket outlets
A valid ID certificate is required when buying a ticket and taking a train.
Foreign passengers: passport
Hong Kong, Macau, and Taiwan passengers:China Mainland Travel Permit
Book Tickets up to 30 Days Before the Departure Day
Since January 1st, 2017, most of train tickets can be purchased up to 30 days before the departure day when booked online or by phone, and 28 days ahead of departure day when purchased at ticket windows in train stations or at local train ticket offices.
1. Online booking on Booking on 12306.cn: the China Railway Official website.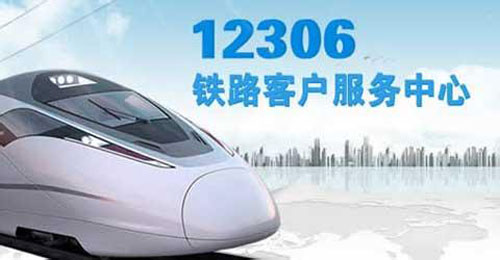 ①Only in Chinese language.
②A China phone number for registering account.
③No booking fee, and a free or 5% to 20% cancellation fee
④Hard to fill in identification codes
⑤Online payment must be done within 30 minutes,only accepts UnionPay, Alipay, and WeChat payment, so you need a Chinese bank account.
⑥You can only pick up online booking tickets at railway stations; ticket outlets cannot print online booking tickets.
2.Online booking on PandaTrips.com (recommend):

No more waiting at railway station,search train schedules and buy train tickets for all rail routes in China.
①Only 3 steps, booking with email, No need for China mobile phone number
②Excellent train ticket booking service in English, easy for foreigners
③Secure online booking and payment environment (Paypal, Visa, Master), with cheapest booking fee.
Many travelers would like to use China's vast and cheap rail network; however, obtaining train tickets is not an easy process (they are sold out quickly, there are long queues, and there are language problems, etc.). PandaTrips makes train ticket online booking available to you to save you time, hassle, and money.
We do the extra to save your time. After booking online at PandaTrips , you can collect your tickets easily: collect your tickets at any railway station with your passports/Mainland Travel Permits and a pick-up number which you will have received via email.. (Often there are queues at the pick-up counters, so make sure you calculate some extra time for picking up the tickets.)
3. Booking at train stations.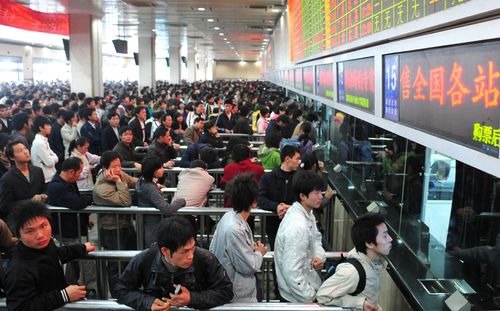 Every station has one or more ticket offices where you can queue up and buy a ticket. It can be expected to have a security checkpoint to scan your baggage on entry to the ticket offices in the largest of stations.
They can be very crowded, with long lines and little signage in English. However large electronic signs, over the ticket windows, will show the following trains scheduled at that station, as well the still available seats in each class for the next few days.
The officer will just want to know your destination and provide you with the next trains and the class of seat available. At the big cities' stations, a dedicated ticket window for foreigners may be provided. Special lines can be dedicated for ticket refunds, exchanges or just for elderly citizens with little English information to explain which line is which. It can be possible to join the wrong queue and have the staff refuse to serve your needs, due to their strict following of their guidelines.
Railway station ticket offices can now sell tickets departing from other stations all across China and operating in other railway bureau areas but this can attract an extra fee of ¥5 per ticket.
Normally cash is paid for tickets, although a few counters accept UnionPay cards. Foreign credit cards are only useful in major stations in the large cities. So, it is probably worth carrying the right amount of cash.
You may see some Automated Ticket Machines at train stations in major train stations, but it is only able to sell tickets Chinese identity card holders.
4. Authorized train ticket agency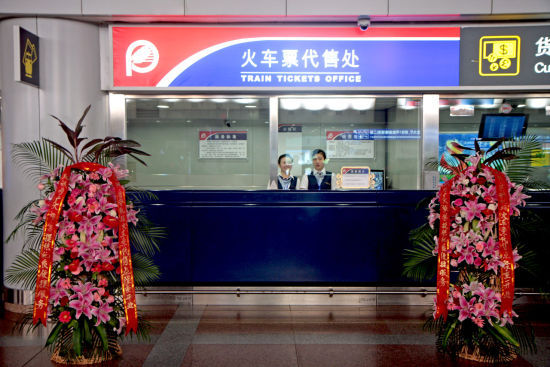 Major Chinese Cities and towns will have a several separate train ticket offices or authorized train ticket outlets. They can be like a shop, typical in many travel agencies or large hotels, but can more often be a simple hole-in-the-wall arrangement.You don't need to go to a train station,commonly less crowded than a train station,sometimes no lines at all, and more conveniently located than many railway stations.
Finding an office can be difficult, because of their often small size and only Chinese signage, look out for a CRH or China Railways logo or simply for list of train numbers by the window. They operate in the same manner as a railway station ticket office but will charge an extra ¥5 per ticket as a service fee.
Usually work from 8 am to 5 pm,some open later and close earlier.
Don't expect the staff at train ticket agencies to speak English. You'd better write a note in Chinese with the train number, travel date, and seat class.