How to Take Train in China?
A Quick Guide on How to Take Train in China – Step by Step
Step 1, arrive at the train station, get your train ticket and passport ready for check. If you haven't bought ticket yet, buy ticket at ticket lobby first.
Step 2, get through security check and have your tickets checked.
Step 3, wait for your train at the assigned waiting hall.
Step 4, line up to check in and find the assigned platform to board your train.
Step 5, board the train.
Important notes: China's railway stations usually begin the tickets checking 20 to 30min (around 10min for bullet train) before the departure time, so carefully read train ticket, and it is better for you to get to the railway station 60 min in advance if you choose to travel by train. For some big city such as Beijing and Shanghai, the railway station is very big and quite crowded. Passengers then need more time to get on the train and are suggested get to the railway station 1.5 hours in advance. In Spring Festival Rush, you'd better arrive at the station 2 hours before departure time.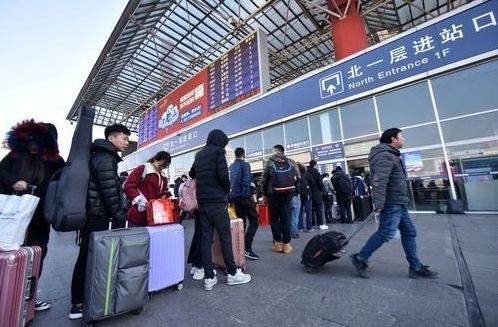 Find the Correct Railway Station for Your Train
In many China cities, there are two or more railway stations. For instances, there are three railway stations in Guilin, mainly five railway stations in Beijing, mainly four in Shanghai, three in Xian and also three in Kunming.
So you must find the right train station. And if you get to the wrong one, you are most likely to miss your train.

We suggest that you read your train ticket thoroughly and very carefully, especially the departure station, departure date and time. Show your ticket or booking information to the driver if taking a taxi. Have the correct map and consult with your hotel staff if you take metro or public bus. If you book a tour package with Top China Travel, we'll check the train information for you. And your guide and driver will take you to the correct train station.
After arrival, follow other passengers to get through the processes for train boarding.

>> Further reading: How to Read China Train Ticket
Passengers need to present valid ticket and ID certificate (your passport) to get into the station. There are security channels in each station. Put all your luggage on the security check apparatus and have yourself checked by security staff as well. Afterwards, pass the channel quickly. Do not forget to fetch your luggage. Be noted that the prohibited articles will be confiscated.

>> Further reading: China train luggage regulation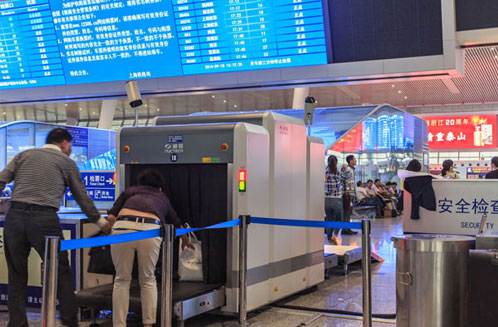 Get to the Right Waiting Hall, Waiting for the Train
After passing through the security channel, find the waiting room according to your train's number. The information about train schedule, date, time, destination status, waiting room and sometimes platform as well will be show on the big electronic board. With the number and the departure time of the train, you can find your train easily.
In big cities, there are both Chinese and English signs. If not, you may ask for help by showing your ticket to a staff and she/he will show you the way to the right place.

Important notes: the bullet trains and high speed trains (D, G, C trains) stop only for around five minutes (even less time in small stations), so you must make sure you are in the correct waiting room.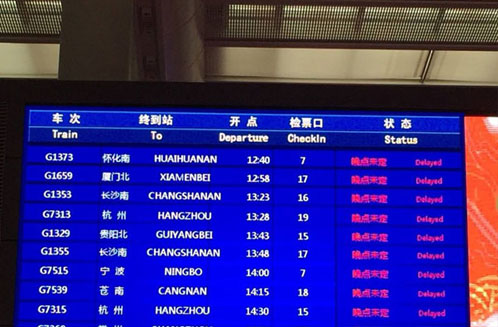 You wait at the waiting room till ticket checking. In China, the ticket checking always begins 30min in advance of the train's departure. However, some kinds of trains such as G, C & D trains start ticket checking in 15 to 20 min before the train's departure. Please double check the number and departure time of your train. When waiting for checking, you should stand in queue and pass the ticket entrance with your ticket and passport. The ticket entrance will close at 5 to 10 min before train's departure.
Follow the direction boards to the assigned platform for your train.

You can expect a long walking from ticket check gate to the platform. So the luggage should be light, or at least easy to manage. In some small or old train stations, there is not escalator or elevator, so you may have to walk down stairs with your luggage. Stand by the safe place on the platform for boarding.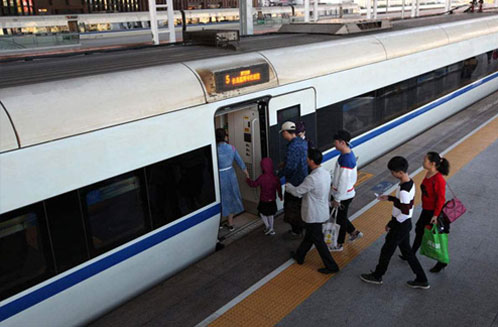 Board the Train – Find Your Carriage and Seat
Ling up to get on train. For your convenience, at many railway stations, the carriage numbers are marked on the platform, so that you can locate your carriage quickly.
Each carriage has the train number and carriage number on it, and you should find your carriage according to the number on your ticket. There are stewards on each carriage, you may double check with the stewards whether you get into the correct train and carriage.
After getting into the carriage, find your seat/sleeper and have your luggage settled on the luggage rack or under the seat. Remember to keep your ticket. It may be checked on train and you'll need it to get out off arrival station.